Located in the beautiful rolling hills of Jo Daviess County, the Stagecoach Event Center is a postcard perfect location to
hold your special event.

The Event Center has two rooms available. The Roberts room
seats up to 65 people comfortably. The larger banquet room
can seat up to 300 people. Maximum capacity is 365 guests.
The ample outdoor area also allows for tents providing
additional seating and space.

Lodging and overnight accommodations can be found at
area Bed & Breakfasts or in neighboring Stockton.

Enjoy the outdoors and recreation at the Apple River State Park just minutes away.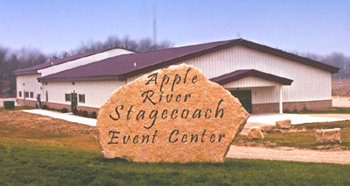 For further information or to make
reservations, call Mary at 815.275.6845